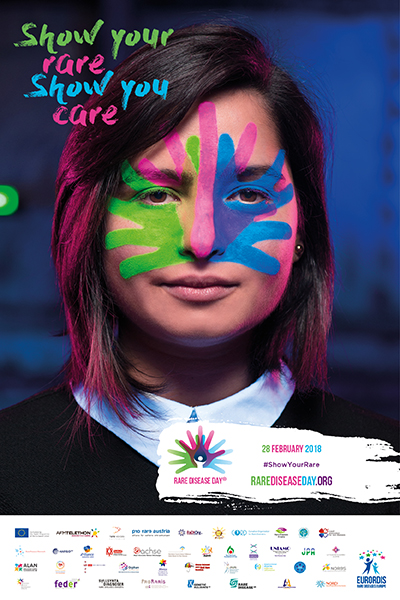 Rare Disease Day 2018 on February 28th
Show Your Rare for
Rare Disease Day 2018!
Rare Disease Day has become iconic as the global campaign for raising awareness of the impact that rare diseases have on the lives of patients and those who care for them.
A patient-led campaign, Rare Disease Day was launched by EURORDIS and its Council of National Alliances in 2008 and brings together millions of patients, families, carers, medical professionals, policy makers and members of the public in solidarity.
In 2018, organisations in over 90 countries and regions around the world are participating in Rare Disease Day by holding local events. For the first time ever, Togo, Ghana, and Trinidad and Tobago will participate in Rare Disease Day!
The theme for Rare Disease Day 2018 is research. Rare Disease Day 2018 offers participants the opportunity to be part of a global call on policy makers, researchers, companies and healthcare professionals to increasingly and more effectively involve patients in rare disease research.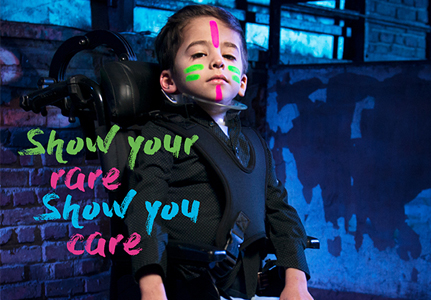 Get involved in Rare Disease Day 2018!
Everyone can get involved in Rare Disease Day, those affected and unaffected by rare diseases alike:
>>Show Your Rare on social media
Take part in the interactive #ShowYourRare social media campaign during the month of February - paint your face and share your selfie on social media to show your support for the rare disease community! See the EURORDIS team getting involved.
Prefer not to paint your face? See alternative ways to get involved, including printing this social media boardand holding it up in your photos!
Sean Hepburn Ferrer, eldest son of the late Audrey Hepburn who passed away from rare cancer pseudomyxoma adenocarcinoma, is Rare Disease Day Ambassador for the fifth year. See him getting involvedin the #ShowYourRare campaign.
You can also add this Facebook filter or this Twitter filter to your profile picture.
And don't forget to sign up to the Rare Disease Day Thunderclap campaign to automatically share a message of support on your Twitter or Facebook account on 28 February.
>>Rare Disease Day 2018 official video & poster
Watch and share the official video (available in over 30 languages!). This year's video pays tribute to the role patients play in research. The video features patients and family members, researchers and doctors who show their rare. Read their stories! Thank you to Publicis Health for their in-kind contribution to the campaign and Madame Peel for the production of the video.
You can also download the official Rare Disease Day 2018 poster, logo and social media banner to use at your events and online.
>>Become a friend of Rare Disease Day
Everyone (organisations, companies, caregivers and researchers) can become a friend of Rare Disease Day to show support for the 2018 campaign!
>>Your Rare Disease Day events
Since Rare Disease Day began, thousands of events have been held throughout the world, reaching hundreds of thousands of people.
Are you holding an event for Rare Disease Day 2018? Post your event on rarediseaseday.org so that people living in your country can find out about your Rare Disease Day activities.
>>Tell your story
You can also tell your rare disease story on rarediseaseday.org.

Source: https://www.eurordis.org/pt-pt/news/apoie-doencas-raras-mostre-o-no-dia-das-doencas-raras-de-2018
By: Eva Bearryman, Communications Manager, EURORDIS
Pictures: rarediseaseday.org